Directions for Welding Ventilation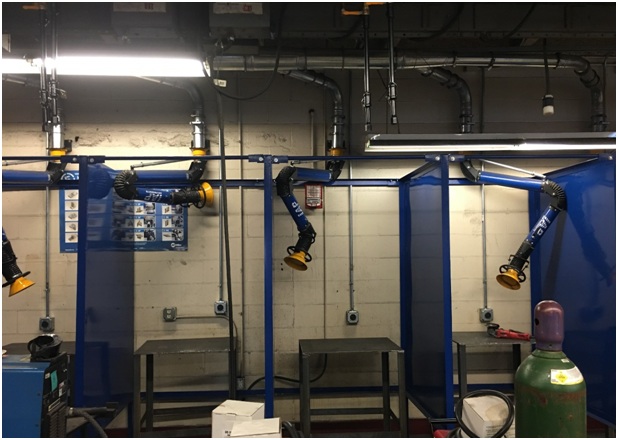 The pure explanation of ventilation is to supply plenty of fresh air with the help of a mechanism. During the processes of brazing, cutting, welding, etc. ventilations is needed to show some action.
Guidelines of welding ventilation
Here are certain aspects over which the ventilation process relies on
The area which the welding ventilation would be covering at the workplace.
Make sure there is space for other tools which will be releasing a lot of toxins while performing.
For proper welding ventilation, natural airflow is ample for the welding manoeuvre.
Managing of space for the workers should be arranged as there is a risk that the impurities may surround them.
What health-related havocs can the welding gas bring?
One of the most witnessed health hazards in the welders is asthma due to venomous gases and fumes. The seriousness of the respiratory ailment depends upon the time the worker spends in the workplace. Here all the gaseous components exist.
The fumes consist of components like magnesium, copper, zinc that are enough to cause metal fume fever to the welders. Signs that the welder is suffering from the metal fume fever can be discovered with 12 hours. The symptoms are watering of eyes, nose irritation, chest pain, frequent thirst, nausea, improper inhalation, and many more. All this can take place because of the heavy smoke. The ones who are engaged in iron and steel processes are more vulnerable to the smoke.
Other forms of technical ventilation
If your operation does not fruitfully match up with the natural ventilation, it's time to shift over the welding ventilation guidelines. At the first place is the low-vacuum system that might be covering a generous capacity of air at a slow speed. The low-vacuum system includes hoods that are fixed in a specific place away from the work region.
The other option is using a high-vacuum system that comprises of a close ranging extractor that would be focusing over the pulling and eliminating fumes as close to work. Using this kind of device at a very high velocity can take away every tiny air particle and harmful substances from the work area. Such type of techniques typically has a fan inside which is for pulling the impurities to a purifier or filter.
Conclusion
Those were a few things about the welding ventilation and how to make them ready to install in the industry.