7 reasons why your business needs a basic need to make a mobile application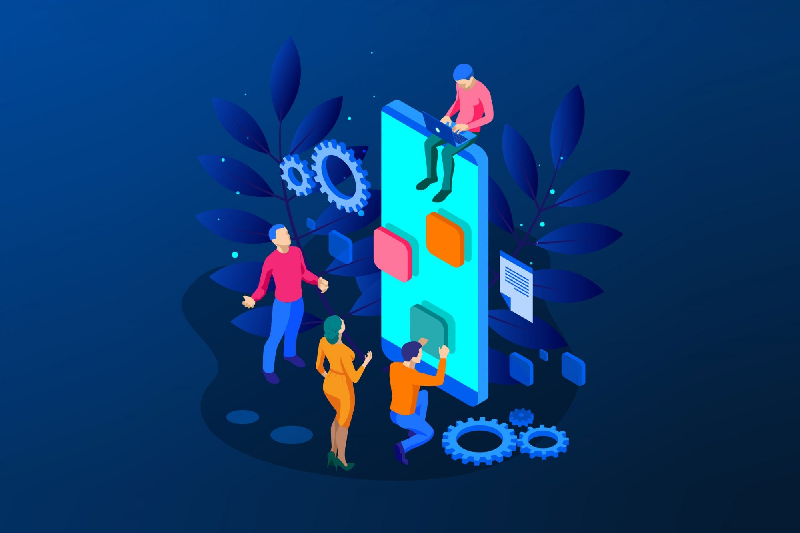 The mobile app is one of the most powerful tools for communicating with the target audience for all areas of business. Almost every adult in the world owns a smartphone and this market continues to grow day after day. This is a strong reason why you should shift your focus to mobile app technology
A major feature of the modern digital environment is the multiplicity of channels. Building an active presence in those channels that provide connectivity with potential customers becomes a vital business challenge.
Mobile application features
Sales growth by making a mobile application
Mobile applications through which you can increase the company's profits. This depends on the large audience that has grown over time to use mobile apps.
With promotion notifications, discounts, and bonuses, you can motivate customers to purchase from you. You can directly contact all users who have installed your app.
For example, a company can send a special offer to customers who are close to their store or office with the help of geolocation techniques.
Another feature of the mobile application is the ability to make payments via a mobile phone, as its popularity has been increasing rapidly in recent times.
People no longer want to spend time shopping, because the same things can be bought using a smartphone while drinking coffee at home.
Build the audience by making a mobile app
You can create relationships with your customers no matter where they are in the world. The person does not need to remember your web address or refer to the search engine, as in the case of sites, as the application is already installed on their devices. Depending on the function, one can use it even without internet access.
Every new user who installs your mobile app enters your private information space. Therefore, it is worth using different ways to increase the number of posts; for example, you can offer rewards and discounts in return.
The "Mobile App + Website" gives a double return to the organization. The company's internet resource attracts customer attention thanks to search engines, and when a visitor enters a smartphone program through the site, the company turns into a more targeted business with him.
Marketing and communication channels for mobile application programming
Mobile apps can be used successfully to attract brand attention with various marketing campaigns. This way, you can broaden your potential customer audience and develop trusting relationships with them.
The truth is: Launching your app is a step of advertising anyway, as it allows you to use other marketing tools. For example, you can post news about related resources or send press releases.
A particular value in this context is the possibility of receiving feedback from users. For example, you can run polls, conduct surveys, enable users to report errors, etc.
Improve business operations by programming mobile applications
You can create an app for employee interactions within a team, as well as monitor and manage any operations, exchange files and data, and collect specific statistics, for example. Mobile applications can be used effectively to organize and complete multiple work tasks.
Creating targeted products only for use within the company itself is a common practice. This way, for example, you can ensure uninterrupted interaction between employees, regardless of their current location.
The growth of customer loyalty and affiliation by making a mobile application
Enabling customers to book a table, order food, or pay for their order using the application on their smartphones, the business sector gets a powerful tool to increase loyalty and affiliation. You can integrate your own program to increase customer love in your product in the mobile app and share useful promotions, discounts or bonuses with customers.
You can take full advantage of the customization tools by sending instant notifications about new promotions and discounts. You can offer users who have installed the app access to exclusive offers and special rewards.
If people want additional information about your company or the products and services you offer, they can always do it 24/7 via the mobile app. This increases continuous interaction, thus stimulating good loyalty to your business and increasing the number of sales.
A source of valuable analytics with mobile app programming
By using the mobile app, you can gather a lot of useful information for further analysis. For example, you can see which products your customers are buying the most. Also, how much time do they spend on the app. Or even, what are the most used and least popular jobs?
By tracking the way people interact with your app, you can understand how to improve it to provide them with a better user experience. You should know that understanding your customers is the key to success in any commercial place.
You can get data about the audience's geographical location, demographic data, interest information, and many other interesting statistics that you can use and benefit from.
Competitive advantage in mobile application programming
Not all companies fully take advantage of the capabilities of their own websites, not to mention their applications on mobile devices. Some companies do not own them, because they for some reason consider them unnecessary! Competition in this field is still low, and this definitely should be taken advantage of.
If you can be one of the first to start using mobile apps as a marketing and sales tool, you can confidently boost your future position. In today's highly competitive world, it is imperative to seize as many opportunities as possible to educate about and increase brandRecognize it.
What are the areas that can benefit from the work of a mobile application?
This tool will not be useful for everyone, but there are areas that you must make a mobile application of their own. The fields are:
Tourism: to facilitate the search for hotels and resorts, ticket reservations and interactive maps
Medicine: For consultations, book an appointment online, call a doctor.
Car business: for rental, repair and maintenance.
Restaurants and cafes: to place orders, deliver them, and view the price list
Recreational and entertainment facilities – different clubs.
Beauty industry: to make an appointment with professionals, interactive price lists and information about services
Online selling services: to provide product catalogs, demand, and price
Fitness and beauty: schedule, online registration, reviews.
If you are the owner of a company that works in any of these outlets, you can try all the benefits mentioned in this article by simply owning a mobile app. Moreover, it is worth looking more into the possibility of developing a product for internal use in order to improve business processes; companies should consider this as a must.
Mobile application programming
Mobile apps can provide many benefits to almost any company. If you are still not sure if you need a mobile app, I hope the features in this article will help you in making the right decision.
The main thing to remember is that any product or tool should solve specific problems and contribute to the development of the company. With this in mind, it is necessary to plan the work and compile a list of necessary functions for the application.
Any company must strive for development, as well as keep abreast of the latest technology, and respond to innovations that can make it more efficient. Effective mobile app creation can help achieve these goals.
References: