Miles Web Shared Hosting: Should You Host Your Small Business Website with Them?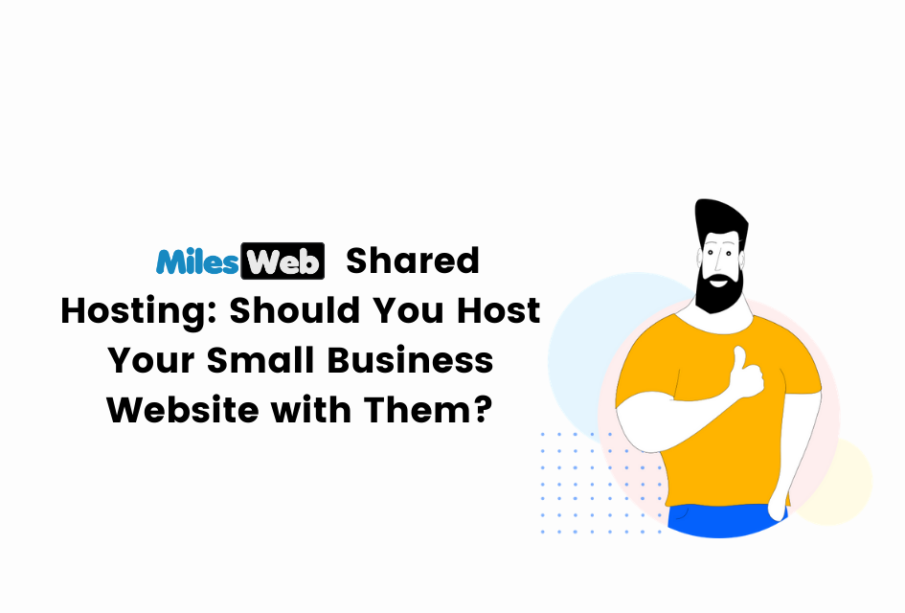 In today's competitive online world, coping up with competitors is getting very difficult. Just look around the internet and fire only one query, you will get thousands of answers for it. But, what you actually read, is answers displayed on the first page of the search results. When you yourself, don't scroll up to the third or fourth page, then how could you accept your audience would do that?
This, simply explains, if you want to run an online business, then along with the website, you need to work on its requirements.
With digital marketing, many people think, it is easy to get a website ranking. But, they forget to focus on the permanent thing, that stays with a website forever. And, it is web hosting. Yes, web hosting for your website is equally important as digital marketing planning.
There are many parameters of web hosting, like its CPU, RAM, datacenter location, etc. Many of us, realize very later, that a website needs an unlimited resource to keep going for a long. You may get fascinated by the shared hosting plan due to its cheap rates and it indeed helps you to host a small website very easily.
So, if you are looking for a solution, that can keep your online business grow without any limitations, then the answer to it is – Unlimited Shared Hosting.
SSD Shared hosting comes with various resources, but does that mean, it costs you tons of money?
That's exactly, wrong. Some hosting plans, like best wordpress hosting or MilesWeb's unlimited Shared hosting, offers you all the best features and resources at a very affordable price.
MilesWeb Shared Hosting Plans :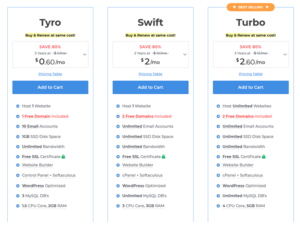 They offer a separate range of Shared hosting.
How does Shared hosting powers up your small business website?
Well, to run any online business, you need to make sure that visitors can spend as much time as they want on your site, without being interrupted by any downtime. So, atleast 99% downtime is required to keep the site going. Also, the site needs to be fast and information stored on it should be 100% secured. This makes visitors confident about browsing a site and builds a trust issue among them.
Now, let's see some of the MilesWeb features that can help the small business website grow :
1) Free domain name
Before starting any online business, you need to register a domain name that represents your online business. It acts as your identity on the internet so that people can recognize you. Usually, you need to pay heavy bucks to register a domain name but MilesWeb's shared hosting plan offers a free domain for a lifetime.
2) Free SSL Certificate
SSL certificate is a lock of a website, that keeps the data in encrypted form. So, whenever any information is transferred between your server and visitors' site, SSL protects it from getting infected. SSL certificate also helps in ranking a website on search engine results.
3) Free Migration
I get so many questions, asking about the migration help for their site. And, I always suggest that if you are a non-technical person, then do not perform this on your own. As migrating a website's data from one server to another is really a difficult task, one wrong move and all data can get lost. So, recommended is to get it done by the technical team who is well versed with it.
4) 1 Click Installer
Every website needs continuous updating of new applications. 1 click installer from MilesWeb enables you to install over 400 applications Joomla, WordPress, Drupal, etc. to make the site live with new updates.
5) Secure Email Accounts
Transferring emails between clients and customers is a way to display your authenticity. Having a business account with business email ids gives a professional touch. So, instead of using any XYZ email id, try using professional ids for department wise like sales, marketing, etc. At MilesWeb all these email accounts are secured with POP/IMAP, which maintains the sensitivity of mails.
6) Security
Security is the biggest issue, for which people look solution. No one can afford to have an online business hosted on a non-secured web host server. Thus, MilesWeb ensures that its servers are scanned on a daily basis to keep all the sites from malware. Their team ensures that even if any virus is found, it gets resolved before actually attacking any of the websites.
Unlimited web hosting makes a site grow and business run limitless. Addons like website backups, SpamExperts, SiteLock basic, Google webmaster, etc. are used to keep the track of a site.
Selecting Shared hosting?
You may get unlimited options for the hosting provider on the internet, but trusting the one is your choice. It is always better to go by the choices made by experienced people. Like me, there are thousands of people who trust, MilesWeb's 24/7 support, 99.95% uptime, and 30 days money-back guarantee features.