Unbiased MilesWeb Review – Read Before You Choose Their Web Hosting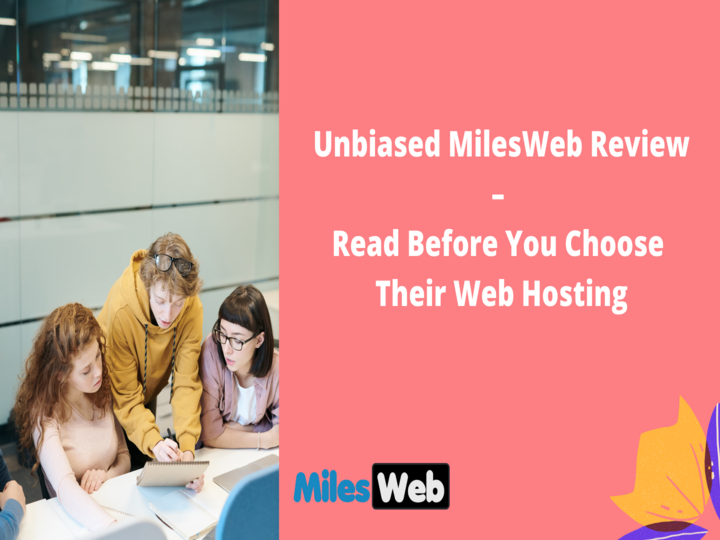 MilesWeb is one of the popular names in the web hosting industry, having over thousands of customers under it. It has its datacenters located in India, USA, UK, Canada Singapore, and Australia.
If you are wondering what makes MilesWeb stand-alone, in this massive competition, then let me tell you, it's the uniqueness it has of providing the best hosting features. The company is considered as the best solution where you will get top-notch hosting at very affordable prices.
You can purchase all types of hosting like shared hosting, reseller and dedicated hosting, WordPress or VPS hosting, along with a good range of cloud hosting.
Features :
There are so many features available with each web hosting plan at MilesWeb. To list down few are :
1) Variety of plans :
In shared hosting they have :
(i) Unlimited hosting , cheap web hosting Australia : starts at A $2 /month.
(ii) Linux shared hosting
(iii) Windows shared hosting
MilesWeb is a trusted partner of big cloud players like Amazon and DigitalOcean. Thus, they provide managed AWS hosting and managed DigitalOcean hosting.
The reseller hosting comes as :
(i) cPanel reseller hosting
(ii) Plesk Windows reseller
(iii) Unlimited reseller hosting Australia
(iv) Unlimited Windows reseller
(v) WHMCS License
The good news is, you can also register the domain name at MilesWeb. Some of the hosting plans like unlimited shared hosting do come with the free domain name.
2) Free Website Builder Tool :
MilesWeb hosting plans provide free and easy to use website builder tool. It's a drag and drop editor, that enables you to select a theme according to the site's profession and put your content into it.
After talking to their customer executive I got to know that this tool can allow you to use some e-commerce features and allow free editing and writing.
3) 1 click installer
A website needs regular updation to survive in the competition. New applications can be helpful for the site that to make it more user friendly. 1 click installer tool enables you to install over 400 applications like Joomla, WordPress, Drupal, etc.
4) Latest software
Old or out-dated software can infect the website as they are not strong enough to protect from cybercriminals. PHP and MySQL software from MilesWeb always comes with updated versions and the software keeps them updated even after you purchase the plan.
5) Support
Technical customer support is offered for 24/7 via live chat on websites or tickets. They have a whole wide range of knowledge base and referring it, most of your issues can be solved by yourself also. Checkout the MilesWeb YouTube channel, where the common queries and steps to solve them is shown very well.
6) Cancellation and Refunds
It is common to understand that not everyone can fill satisfied with the services they get, after all, it's human nature. So, to keep you free from all types of tangled connections, MilesWeb gives 30 days of money-back guarantee. Within the first 30 days of your purchase, if at any point you think that their service is not worth, then you can ask for a 100% refund.
Also, you are allowed to cancel their service and any point of time, but refund policy in this case, may vary.
Once I have read 1 complaint about the, that they didn't refund their customer's money. But, after investing it was found that he was asking a refund after 90 days. So, please do check their terms and policies.
7) Comparison
After comparison, you will find the pricing strategy is very decent as compared to their services and features offered.
Bottom Line :
As per the experience, I think, if you are just starting an online business, starting with unlimited shared hosting would be a profitable choice for you. The tech support team never fails to handle you and 99.95% Uptime keeps the site running for longer.